To help you out in your quest to find the best web hosting provider, we have listed the 'Top 10 Best Web Hosting Companies in India.'
Choosing the best web hosting company can be a tough task. If you are new to this, it's even harder.
There are scores of options out there, and it takes time to compare all the features of each web hosting plan. What's confusing is, most companies offer similar features for different prices.
So, how can you make the right choice?
To make the matter worse, there are thousands of websites that list the top 10 best web hosts, and it becomes sheer confusing to pick one.
What most people don't realize is that they often rely on false reviews and ratings. I have seen many bloggers recommending specific hosts just because they get paid higher commissions if their referrals signup.
And that's completely wrong!
Since we see many false reviews and ratings, I came up with this list of the best web hosting companies in India based on real customer sentiment.
My name is Vikas Solanki, I am an e-marketer with 15+ years of experience in the field. I have worked with most of the popular and not so popular web hosts in my career.
Here are some of the important factors I have considered to pick the top 3 best web hosting companies in India.
5 Important Factors to Consider
The first criterion is the speed of loading your website over the internet.
The second is the uptime of your website, i.e., the time when your site remains accessible over the net without any interruption.
The third criterion is extra features, like FREE domain, cPanel, 1-click installs, SSL, CDN, Backups, etc.
The fourth criterion is customer support, which shouldn't be an afterthought, but should actually be one of your priorities.
The fifth factor is value for money – which means you get a good bang for your buck from your web host.
I kept my reviews unbiased and relevant to the best of my knowledge.
I also believe that there are no bad or good web hosts, but yes some web hosts definitely stand out from the crowd.
I have focused on companies that deliver good quality services and provide excellent value for money from my personal experience.
So without much ado, let's get started.
TOP 3 BEST Web Hosting Companies in India
1. BlueHost ($2.95 / Rs.220) Monthly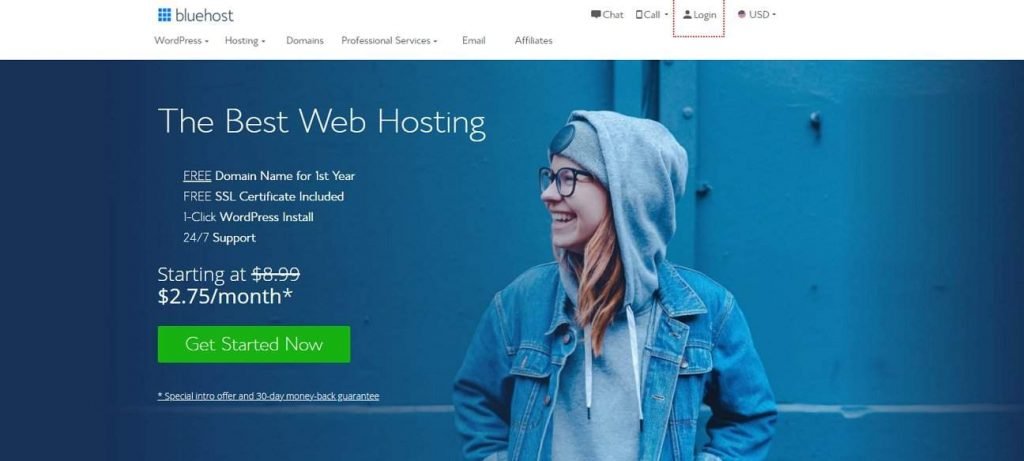 Bluehost is one of the most popular hosting companies for Indian users. It started in 2003 and has grown into the largest web-hosting provider of its kind in the world.
It offers three hosting packages that are suitable for all kinds of websites.
The basic shared web hosting service plan from Bluehost comes with a 1-click WordPress installation which saves you the trouble of uploading files and creating databases manually.
It is one of the best web hosting service providers in India for beginners, especially if you are looking to host your website on a budget.
Best of all, it is recommended by WordPress.org officially on their website.
You can't go wrong with Bluehost if you are looking to build an online store, blog or portfolio website.
Key Features
FREE domain for 1 year
1-click installer
Unlimited subdomains, parked domains, and add-on domains
Officially recommended by WordPress.
100+ FREE WordPress themes
Highly recommended web hosting company by popular Indian bloggers.
Consistent uptime (99.99%) and reliable speed.
30-days money-back guarantee
One Drawback
Website backups and security features are chargeable, but most starters don't need these Addons.
Buy from BlueHost.Com, NOT BlueHost.in. Some customers have reported customer support issues with BlueHost.in.
Click here to visit Bluehost and check out their plans and pricing that is suitable for you.
2. DreamHost($2.95 / Rs.220) Monthly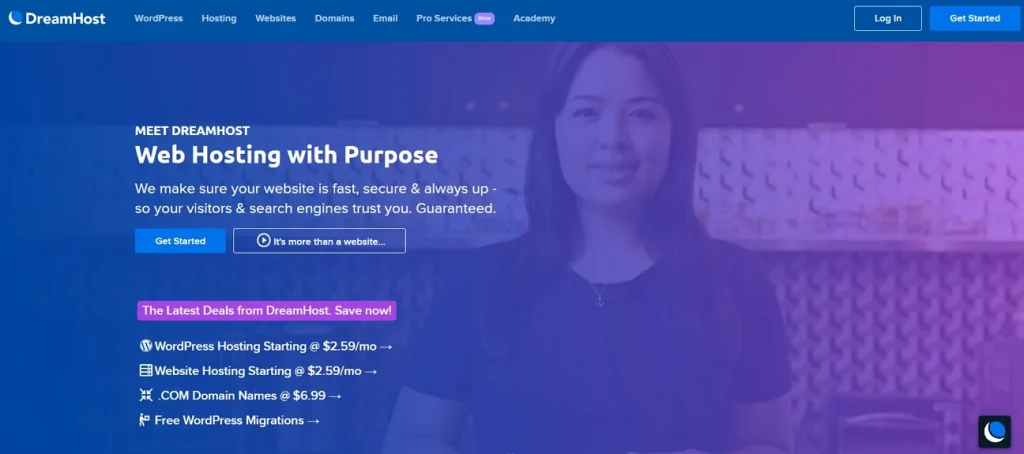 DreamHost is a web hosting company that has been around since 1997.
You get all the essential features required to run a successful website at an affordable price. It's definitely not the most expensive hosting company like most other expensive web hosts out there.
They host more than 1.5 million websites and are known for their robust infrastructure, easy to use control panel, and excellent customer service.
Their web hosting plans start at just $2.95/month (Rs.220).
Key Features
FREE domain name,
Unlimited bandwidth,
Fast SSD storage,
FREE SSL certificate.
97-Days "Money Back Guarantee."
Monthly plans available.
Plus, their customer service team is available 24/7, 365 days via live chat for any questions or problems you may have.
3. GreenGeeks($2.95 / Rs.220) Monthly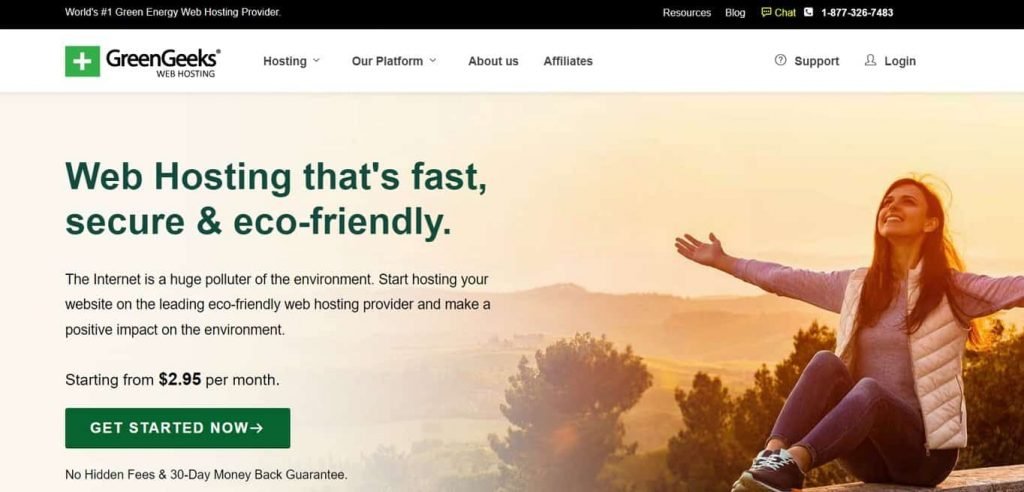 GreenGeeks is a web hosting company that has been around since 2001. They offer a range of hosting plans that they claim are ideally suited to WordPress users in particular, and each plan includes a one-click installation.
They host more than 800,000 domains and have more than 400 employees.
GreenGeeks is a subsidiary of Endurance International Group (EIG), which also operates BlueHost, Hostgator, iPage and a few other web hosting companies on the internet.
GreenGeeks is the EPA green power partner which makes them the world's most environmentally responsible hosting company.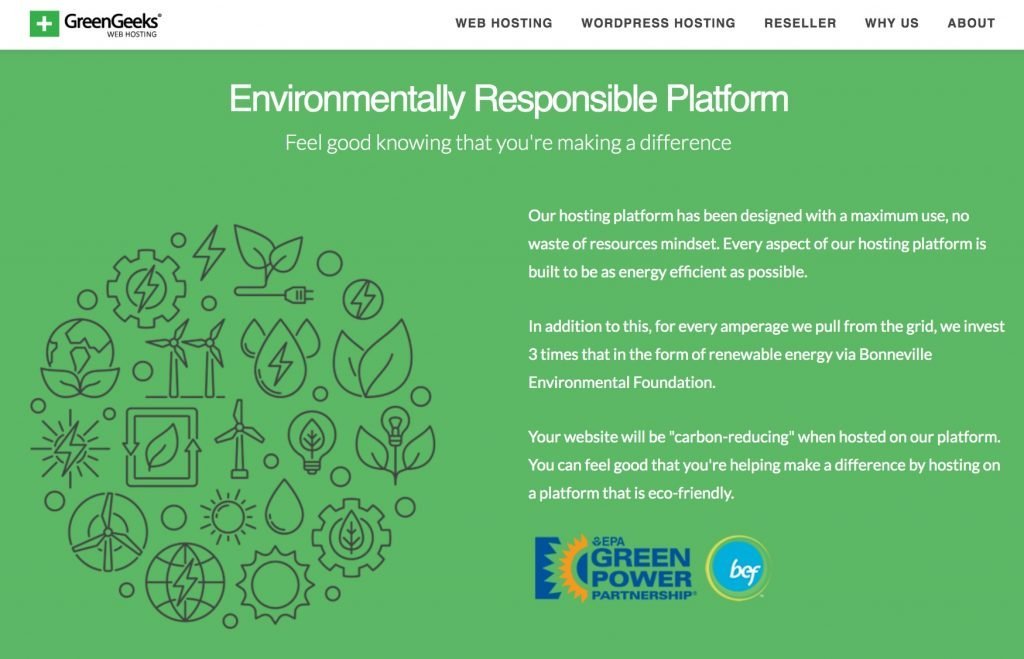 Their web hosting plans start at just $2.95/month (Rs.220).
Key Features
50GB Webspace,
Unmetered Transfer
Free SSL Certificate
Free Domain Name for 1st Year
Free Nightly Backup
Free CDN
Managed WordPress
30-Day Money-Back Guarantee
24/7 Live-chat Support
GreenGeeks has support via live chat and telephone available 24/7.
One Drawback
You need to signup for longer-term to lock in the best competitive price.
Which type of Web Hosting is the right fit for you?
Every website's needs are different.
Therefore, it's important to evaluate your specific needs prior to choosing the best hosting company in India. Below are some of the most common web hosting options.
We have categorized them under three different categories:
1. Shared Hosting
If you are just starting out and want to host a simple website, a shared hosting plan would be the best option for you.
This won't cost you much and gives you the option to upgrade whenever you want.
2. VPS Hosting
If your website is becoming popular and needs more power, a virtual private server is the best choice.
It provides you with dedicated server resources like processing power and RAM and lets you host as many websites as you want.
3. Dedicated Hosting
If your website is large and needs a ton of dedicated resources, it is best to opt for a dedicated server.
It provides you with your own physical server and lets you install whatever software or programs are required to run your website.
Important factors to consider while choosing a web host
We have compiled our list based on the following factors:
Pricing
The pricing of each plan has been determined by the web hosting companies themselves.
You should find a plan that meets your needs and fits into your budget. You can almost never go wrong with the most basic plan.
Data Centers
A data centre is a place where servers are kept and maintained.
The location of the data centre is important as it dictates how fast your website loads for visitors from different locations.
This means it will be important to choose a website hosting company that offer data centres nearer to your target audience.
Features
We have compared the features that each plan has to offer and noted them down. Usually, a plan with more features will cost a little more.
However, you don't have to go for a plan that has all the features you can think of. You should choose one that has an appropriate amount of features to help you run your website effectively.
Uptime
The number one priority for us when buying a web hosting package was server uptime – nothing is worse than your website being unavailable to visitors!
Server uptime is a measure of the time during which a server has remained operational without a reboot or any other interruption.
Therefore, we have taken special care to ensure that all the companies in our list operate 99.9% uptime servers, year after year.
Customer Support
If you need any help with your website or anything else related to your hosting plan, you'll need to contact customer support.
It would be pointless to have 99.999% uptime or loads of awesome features if you are not able to get in touch with the support team and resolve your problems in a timely fashion.
Look for web hosting providers with 24/7 support availability. This ensures you can get in touch with their support team any time of the day, even if it is 2 am in the morning.
Reputation
This is probably one of the most important factors that we considered when selecting the top 10 hosting companies.
A company's reputation is based on feedback from its previous clients, so we visited various online review sites to see what their users had to say.
Check for blogs and review sites where customers have left their honest feedback about these web hosts.
A good place to start is a simple Google search for the term – "We Host Name" + "Reviews".
WebHosting – Frequently Asked Questions (FAQs)
Why should I choose a website hosting company?
An online business cannot survive without a website. In fact, your successful online presence is directly proportional to your choice of web host provider.
You should select a web host that offers you the features and tools that best suit your needs as a start-up or established business owner. It can be difficult to launch a website if not done correctly.
A good hosting company will have all the necessary server requirements and support tools needed to ensure your site's security, speed and ease of access for visitors from all over the world.
Additionally, they also offer tutorials and guides on how you can optimize your site load speeds.
How do I know which plan is best for my needs?
Just like choosing clothes, you should choose a website hosting package that is best suited to your needs.
Your regular visitors' experience largely depends on the speed of your website and its overall performance.
The server's uptime can be affected by various factors such as increasing traffic to your site, inadequate hardware or technical issues with the software installed on the server.
Therefore, it is important to choose a service plan that offers enough features for your intended use so that you don't have to upgrade anytime soon.
Look for:
-FREE domain name
-Unlimited disk space and bandwidth
-24/7 technical support
-99.9% server uptime guarantee
-1-click installer that will help you set up various applications such as WordPress, Joomla and Drupal
-SSL certificate for encrypting traffic to your site
-Site builder tools that will help you create a beautiful website in minutes
-Cpanel control panel for easy management of your website
-Money-back guarantee, just in case it didn't suit your needs or you want to switch to another host
What are shared hosting plans?
Shared web hosting refers to an arrangement where an individual server is used by multiple clients at the same time for file storage and processing power-intensive tasks like running scripts and storing data in databases.
This means that the hosting company has to make sure that the server is powerful enough to handle all those VMs.
If you're planning to start a small business, shared plans are the best options as they offer basic features such as website builder and email access at affordable prices.
What is a virtual private server (VPS) hosting?
A Virtual Private Server (VPS), also known as Virtual Dedicated Server (VDS), provides a certain amount of dedicated resources – RAM, CPU and storage – allocated for your use.
It is important to note that there is still sharing going on within each server and these resources can be affected if other users on the same machine try to run memory-intensive applications or processes that eat up more than their fair share.
VPS Hosting facts:
– You still have full root access to the machine, meaning that you are in control of all the resources on your VPS
– It can be managed easily by different users on the same machine
– However, since it is still shared hosting, you might experience performance issues if other users are using too many resources