Electric vehicles are the future!
With increasing awareness about environmental pollution and global warming, electric vehicles (EVs) are becoming more and more popular in India. Electric vehicles are not only environment-friendly but also cost-effective and easy to maintain.
One of the best types of electric vehicles is EV scooters. They're affordable, easy to operate, and perfect for city living. If you're not on board yet, then now is the time to start considering them.
In this blog post, we will discuss 10 of the best electric scooters in India. We will also provide a brief description of each one and its price point.
So, whether you're looking for your first electric scooter or just curious about what's available in India, read on!
10 Best Electric Scooters in India Price Comparison
| Sl. No. | Electric Scooter (EV) | Price | Mileage | Top Speed | Charge Time |
| --- | --- | --- | --- | --- | --- |
| 1 | Ather 450x | ₹1,40,000+ | 145 km | 80 Kmph | 6-8 hrs |
| 2 | OLA S1 Pro | ₹1,40,000+ | 180 km | 115 Kmph | 5-6 hrs |
| 3 | Hero Electric Optima CX | ₹90,000+ | 140 km | 45 Kmph | 4-5 hrs |
| 4 | Bajaj Chetak | ₹1,50,000+ | 90 km | 63 Kmph | 5 hrs |
| 5 | TVS iQUBE Electric | ₹1,20,000+ | 145 km | 78 Kmph | 5-7 hrs |
| 6 | Okinava Ridge Plus | ₹75,000+ | 85 km | 45 Kmph | 2-3 hrs |
| 7 | Bounce Infinity E1 | ₹45,000+ | 85 km | 65 Kmph | 4-5 hrs |
| 8 | Hero Vida V1 | ₹1,50,000+ | 143 km | 80 Kmph | 5-7 hrs |
| 9 | Okinawa Okhi 90 | ₹1,90,000+ | 160 km | 90 Kmph | 5-6 hrs |
| 10 | Ampere Magnus EX | ₹90,000+ | 121 km | 50 Kmph | 5-6 hrs |
Price of electric scooters in Bangalore (On-Road price may vary in your city)
How we picked the best EV Scooters?
We used the following criteria to select the best electric scooters in India:
Price and affordability
Range and charging time
Speed and Performance
Safety features
Comfort and convenience features.
Customer reviews
and most importantly, easily available.
Our auto specialists have tested these bikes in Bangalore city. The ride was from Rajarajeshwari Nagar to Indiranagar which is about 18 Km.
Top 10 Best Electric EV Scooters in India
1. Ather 450x (#1 Electric Scooter in India)
Ather 450x is a top-of-the-line e-scooter that is packed with features. A 7" dashboard with a navigation system, music player, and call rejection features make it perfect for running errands during the day or enjoying evening offroading adventures.
A mono-shock suspension system, two disc brakes, and reverse parking assist keep your Ather safe no matter what your next ride may bring. With Ather 450x, make sure you always ride like a pro!
2. OLA S1 Pro
The Ather 450x may have managed to sweep the electric vehicle market by storm, but Ola isn't one to miss out on all the fun. Enter the Ola S1 – an ambitious project which has had people pre-registering before they even got their hands on it!
The e-scooter offers an impressive riding range of 180 kilometers, and a hearty top speed of 90 km/h, though it's up against some pretty stiff competition at Ather with their much-loved 450x. Surely we all are patient enough to enjoy the ride as Ola steps onto the scene!
3. Hero Electric Optima CX
Hero Electric Optima CX is still one of the most renowned names in the EV industry, and its dual-battery model is what sets it apart from rival models such as Ather 450X or OLA S1 Pro. A certified range of up to 140 km per charge cycle coupled with a peak speed of 45 kmph makes this electric scooter perfect for city commutes.
In addition, features like the detachable battery, digital instrument cluster, USB port for charging devices, and regenerative braking make it even more convenient. With these features, you can be sure that your ride will be both comfortable and efficient.
4. Bajaj Chetak
Aesthetics-wise, the Bajaj Chetak is on track to become a modern classic in scooter dom. A blend of old-school and new-age vibes, it looks gorgeous regardless of your opinion about electric scooters.
A cherry on top, it has also managed a range of 90km per charge and is expected to last for 70,000 km or 7 years – more than enough to make your Ather 450x friends green with envy.
Quick charging will get you up to 25 percent juice in one hour while 5 hours can have you cruising again at full tilt.
What's more, its IP67 dust and water rating means it will always look good and stand up to the elements. Unfortunately, its price tag is higher compared to other electric scooters on the market right now – so look out for sales if you don't want to break the bank!
5. TVS iQUBE ST Electric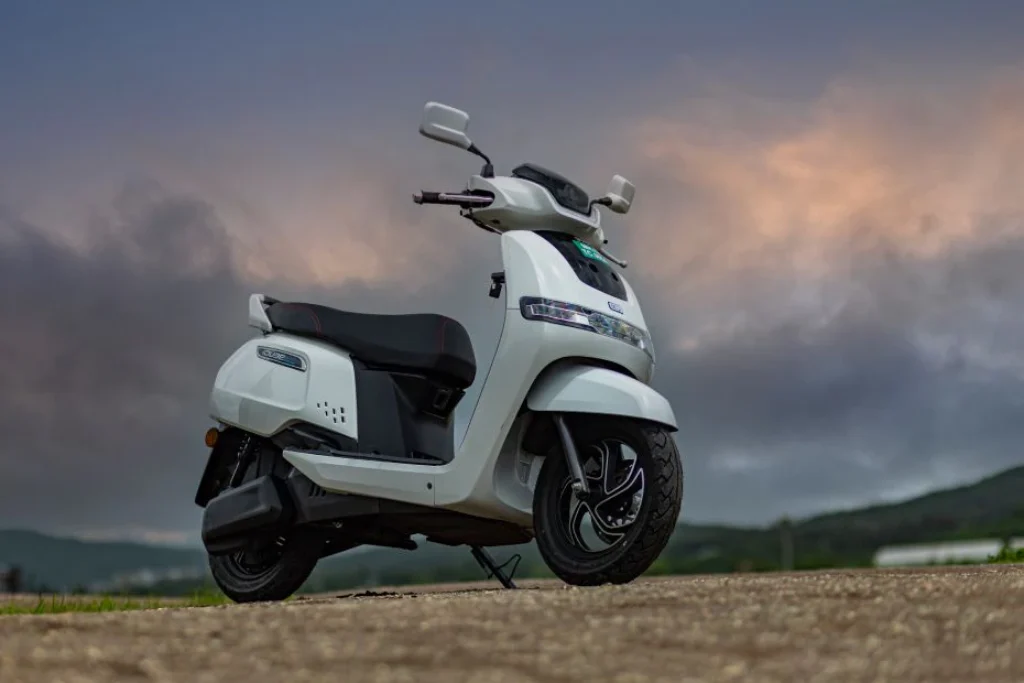 The TVS iQube ST electric scooter is a breath of fresh air to the otherwise mundane-looking electric scooter lineup. While most scooters look like they were designed by drab alien scientists, this one has a conventional style reminiscent of its petrol-powered counterparts.
But don't let looks fool you; it isn't all style and no substance! Its big boot space can fit two full-sized helmets, so you and your companion are always safe and sound. Plus, its top speed of 78 kmph coupled with a 145 km range off a single charge makes it one of the best performing in the market today.
There's also a 7-inch touchscreen that features awesome features like Amazon Alexa integration, music playback, and social media notifications, so you never have to worry about missing out on important updates while maintaining safety at all times.
6. Okinawa Ridge Plus
Okinawa Ridge Plus isn't your ordinary scooter! This mid variant in the Ridge lineup is so incredibly streamlined with sharp edges, it looks like it came from the future.
There's more to this model than its futuristic aesthetics though, as Okinawa Ridge Plus comes with electronically assisted rear drum brakes for added safety and power. Not to mention, a top speed of 45 kmph and a range of 85 kilometers on a single charge – making sure you're "in for the long haul"! If your heart's been set on Okinawa Ridge Plus, buckle up – it's time for an adventure!
7. Bounce Infinity E1
Bounce Infinity E1 has a cool new sale system that puts the scooter in reach of all – even if you don't want to pay the full price up-front.
Their BAAS plans, from as little as Rs 849 per month, can bring down the Bounce Infinity E1 cost to an astonishing Rs 0.65 per km! Plus, with a range of up to 85km, a 65kmph top speed, and three driving modes including regenerative braking energy re-cooperation, you'll need something more than coin-counters of yore fulfilling your power needs.
The Bounce Infinity E1 EV scooter has come to revolutionize the way we move. Its sleek, futuristic design comes with a powerful battery and state-of-the-art features. But it's what lies beneath the surface that makes this scooter so special – 12-inch tubeless tires mixed with disc brakes and CBS for the ultimate traveling experience.
Whether you're heading to work or taking a leisurely cruise around town, rest assured these well-crafted tires will deliver you where you need to go in comfort and style.
8. Hero Vida V1
Hero Vida V1 is Hero MotoCorp's latest electric scooter that's zipping into our lives with a bang, coming in two variants – the powerful V1 Plus and the speedy V1 Pro.
Both have a top speed of 80 kmph and impressive acceleration – the V1 Pro takes just 3.2 seconds to reach 40kmph, while the V1 Plus takes 3.4 seconds.
But that's not all – a portable battery pack gives it an excellent range of 163 km for the V1 Pro and 143 km for the V1 Plus while charging it from 0 to 80 percent takes only 65 minutes!
On top of all this, Hero has thrown in smart features like parking assistance, location navigation, and trip analytics, ensuring your Hero Vida ride is one to remember!
9. Okinawa Okhi 90
Okinawa's Okhi 90 is the ultimate luxury electric scooter – and if you could pick one, look no further!
With its striking daytime running lights (DRLs) that add a touch of style to your vehicle and its remarkably fast charging capabilities – charging up to 80 percent in only one hour – Okinawa is making headway with its cutting-edge technology.
But Okinawa doesn't just stop there. Not only can it take you up to speeds of 90 kmph but also offers one of the largest wheels in its segment, riding on 16-inch tyres instead of 12-inch tyres.
And we can't forget about the big 40 liters boot space, ensuring all your cargo needs are easily accommodated.
Okinawa Okhi 90 is definitely for those who are looking for more than just an electric scooter with standout features — it's for those who want a statement on four wheels.
10. Ampere Magnus EX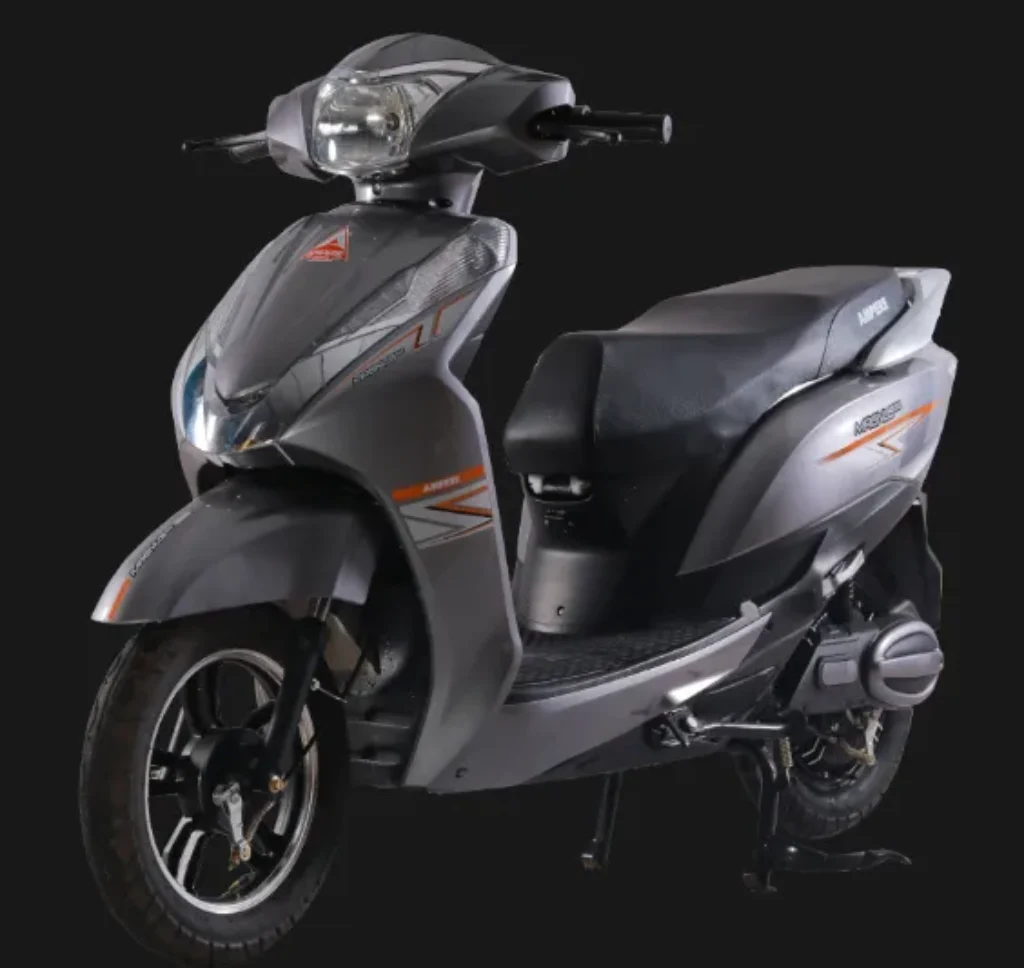 Ampere, brought to you by Greaves Cotton's stellar engineering team, is here with its game changer: the Ampere Magnus EX.
With handy features such as a battery-swapping network and a top speed of 50 kmph within 10 seconds, Ampere has fused convenience and performance together under one scooter.
The Ampere Magnus EX not only takes you from A to B quickly but in utmost comfort with its 121 km range and plenty of legroom for those long rides. Ampere has certainly raised the bar for electric scooters – not that it wasn't high enough, to begin with!
What is an Electric Motorcycle and How Do They Work?
Let's be honest – electric motorcycles look cool. Sleek, silent, and eco-friendly, they're taking the country by storm. But if you're not exactly sure what electric motorcycles are, how they work, and why you should care, here's what we have to say.
An electric motorcycle (sometimes referred to as an electric bike or electric scooter) is just as it sounds: a two-wheeled vehicle powered by electricity that transports passengers from one destination to another.
It works much like a traditional motorcycle, without any gasoline – meaning no hazardous emissions! The electric energy charges a battery on board and is converted into power when in use. As electric motorcycles become more popular and even accessible at different price points, I'm seeing them all around my city streets!
Why You Should Buy an Electric Scooter over a Traditional Scooter?
Here are our top 3 reasons why you should consider purchasing an electric scooter over a traditional scooter:
Electric scooters offer an impressive range of features and customizable options, so you can adjust them to your exact specifications;
Electric motors are quieter and far more environmentally friendly than fuel-powered engines; and
Electric scooters require less maintenance due to their robust design, meaning that your time spent on upkeep is minimal.
Factors to Consider when Buying an Electric Scooter
If you're looking for a way to get from point A to B in style, electric scooters are the perfect solution. But with all the different types of electric scooters on the market, deciding which one is right for you can be tricky.
When buying an electric scooter, or e-scooter, it's important to consider battery power, speed range and weight limits – all of which can vary hugely depending on the model of electric vehicle (EV) scooter you opt for.
Thankfully, with these 10 tips, you can make sure you get the perfect electric scooter for your individual needs.
Battery Power: The battery power of an e-scooter can tell you a lot about its range and performance, so it's worth checking. The higher the battery power, the more efficient your scooter will be over longer distances.
Speed Range: Some electric scooters have adjustable speed settings, allowing you to choose how fast you want to go. If comfort is your priority, then an e-scooter with better suspension and larger tires is a good option for smoother rides over bumpy roads.
Weight Limit: Check that the weight limit on your e-scooter suits your needs – if you're carrying heavy loads or planning long trips, make sure to factor that in when choosing a model of bike.
Maintenance: Electric scooters tend to require very little maintenance compared to traditional scooters, but it's still important to check. Some models have a self-diagnostic mode that will alert you when something needs servicing – so make sure this is an option before buying.
Comfort: Comfort is key when selecting a scooter – and electric scooters come with a range of features to help you stay comfortable on the go. Larger tires can offer more cushioning for bumpy roads, while better suspension systems provide a smoother ride.
Size: Electric scooters come in a variety of sizes, so make sure you select one that's appropriate for your height and weight. This will ensure you have maximum comfort and control over the bike at all times! We highly recommend taking a test ride before committing to a purchase.
Accessories: Many electric scooters come with accessories like extra storage compartments or charging ports – so if these are important to you, look out for them when buying your EV.
Stability: Look for e-scooters that have a wide wheelbase and lower center of gravity for maximum stability on the road. Some models also come with anti-skid features, making them safer to ride in wet or icy conditions.
Range: It's important to check the range of your electric scooter before buying – especially if you're planning long trips. Most e-scooters will have an estimated range from 40 km to 180 Km. Go for the one that meets your daily riding needs.
Price: The price of an electric scooter depends on its features, battery power, and range. Prices usually start around Rs.30,000 for basic models and can go up to Rs.1,80,000 for high-end variants.
Now you know all about electric scooters and what factors to consider before buying one! With the right electric scooter, you can get around town in style and comfort – while also doing your bit for the environment.
Final Thoughts
Electric scooters are a great way to get around town in style and comfort. They're also environmentally friendly, making them the perfect choice for those looking to reduce their carbon footprint. With so many different models and features available, it can be tricky to know which one is right for you. That's where we come in – with this handy guide, you'll be able to find the perfect electric scooter for your individual needs.
So what are you waiting for? Take a look through our top 10 electric EV scooters in India and find the perfect ride to suit your needs. Whether you're looking for an affordable option or a high-powered model, there's something here to suit every budget and lifestyle.
Happy and safe riding, fellas!